23. May | 2023 - 26. May | 2023
IRS Spring Academy 2023
Investigating Space(s): Current Theoretical and Methodological Approaches: Spaces of Financialisation and De-Financialisation
The Leibniz Institute for Research on Society and Space (IRS) and the Georg Simmel Center for Metropolitan Studies at Humboldt-Universität zu Berlin (HU) invite doctoral students and junior researchers to submit applications on the topic "Spaces of Financialisation and De-Financialisation"
Join us for a stimulating event in Erkner and Berlin from 23 to 26 May 2023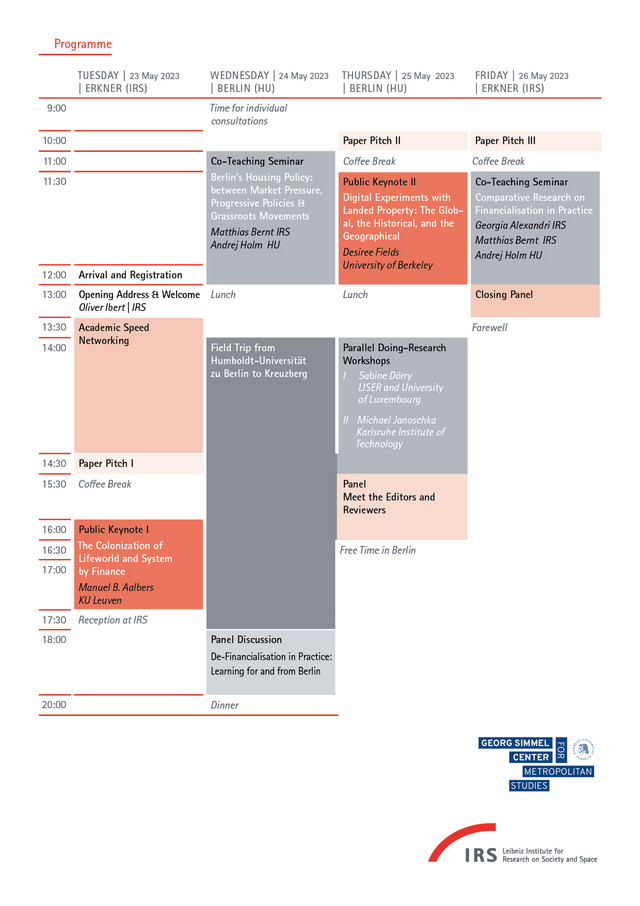 Part 6 on "Spaces of Financialisation and De-Financialisation"
Since the last decade, the term "financialisation" has become increasingly popular in academic research as well as in public policy debates. By highlighting the role of financial actors and logics in shaping urban development, it depicts how housing, land, and inhabitants are treated as assets. Moreover, it drives attention to emerging social inequalities, urban segregation, and sustainability concerns.
Within the growing body of research on financialisation, the entrance of institutional investors in residential housing markets has gained notable attention. Numerous studies have documented the rise of global corporate landlords in variegated cities and housing markets. At the same time, it has been shown that financialisation is highly path-dependent and materialises itself differently in each socioeconomic context. As a consequence, managing homes as assets deciphers into the development of a variety of strategies that aim at constantly generating novel financial values. Thus, while financialisation may be operationalised via rent increases or diversifying investment portfolios, recent research also points towards different management strategies, as well as a growing importance of digital innovation and accounting techniques. Moreover, investments in green and sustainable real-estate projects increasingly attracts financial attention and is further encouraged by the changing macroeconomic background and the energy crisis.
At the same time, housing expenses are on the up and gentrification, displacement and a lack of housing affordability is witnessed in cities around the globe. This situation has stimulated housing campaigns in numerous agglomerations who claim a right to housing and demand active de-financialisation of the housing sector. Echoing this, housing affordability has climbed at the top of the agenda for numerous municipal governments. A variety of policy responses and initiatives aim at tackling housing affordability and de-financialise housing affairs. However, the potential for housing de-financialisation is yet unclear. As housing financialisation is attached to policies arranged in different state scales, the role of trans-scalar networks in policy making in housing (de-)financialisation still remains under scrutiny.
In other words, while financialisation has fundamentally altered housing in many agglomerations, recent years have also seen initiatives which aim to limit its impact, search for alternative ways of housing production and consumption, or even "de-financialise" housing stocks held by corporate landlords. These initiatives are, however, based on very different policy ideas, they work in variegated institutional environments, and are politically contested. Consequently, the relation between financialisation and de-financialisation emerges as a new field of empirical research and conceptual inquiry.
The Spring Academy will focus on these emerging challenges and contradictions. It is aimed in particular at PhD students and early-career researchers whose work centres on one or more of the following topics:
The key characteristics of financial investors as housing landlords, their management practices and business models.
The link between platform operations, digitalisation and housing stock restructuring.
The link between housing financialisation and short-term rental activities.
Real estate projects for the production of ecological, sustainable or the decarbonisation of housing.
Financialisation as a "lived" process: personal and household strategies in dealing with financialisation as an embodied process.
The implications of financialisation for socio-spatial inequalities (e.g. through gentrification, downgrading, or displacement) and gender inequalities.
The role of corporate landlords in influencing housing policies across state scales.
The diversity of local policies dealing with the implications of financialisation for local housing markets.
Social movement housing mobilisation, challenges to financialisation and strategies for housing de-financialisation.
The Spring Academy at the Leibniz Institute for Research in Society and Space is organised in collaboration with the Georg Simmel Center for Metropolitan Studies at Humboldt-Universität zu Berlin. It will create a forum of discussion amongst PhD students and Postdocs as well as housing financialisation researchers. The venue will take place at the Leibniz Institute for Society and Space in Erkner and the Humboldt-Universität zu Berlin, 23–26 May 2023. Experts from different scientific backgrounds will offer in-depth theoretical understandings on actors, dynamics, policies and processes of housing financialisation. Moreover, practical knowledge on methods will be offered in dedicated workshops where invited speakers will share empirical experiences and challenges. Participants will develop a thorough and profound understanding of financialisation processes and receive methodological stimuli that will help them decode and defy challenges in individual projects. A triggering Spring Academy programme will be accompanied by field trips, social events, and evening activities in the vibrant city of Berlin.
Keynotes and Panel Discussion