30. June | 2020
Arrival Cities and Neighbourhood Traps
16th IRS International Lecture on Society and Space with Doug Saunders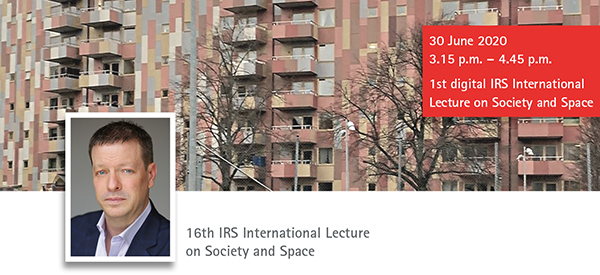 How do cities manage the arrival and settlement of immigrants? This question is discussed by the Canadian journalist Douglas Saunders in his book "Arrival City: How the largest Migration in History is Reshaping Our World", published in 2011. In his book, Saunders lays out the conditions for success and failure of immigration-defined neighbourhoods around the world. He argues that "arrival city" districts are self-contained economic and social structures intimately tied to their "sending" villages and neighbourhoods, defined by low housing costs and communities of mutual support. In his current work in Europe, he is examining how housing and labour markets can transform these districts into "social-mobility traps" in successive generations, and how communities can organize to improve their outcomes.
In his lecture, jointly organized by the Leibniz Institute for Research on Society and Space and the Humboldt-Universität zu Berlin, Saunders discusses policy and community implications of this work.
Discussant: Nihad El-Kayed, Berliner Institut für empirische Integrations- und Migrationsforschung (BIM)
Vita
Doug Saunders is a Canadian journalist and author, currently resident in Berlin as a fellow of the Robert Bosch Academy. He was particularly recognized for his book Arrival City. How the Largest Migration in History is Reshaping Our World which was awarded several international prizes.