05. December | 2019
IRS Seminar with Stoyan V. Sgourev and Lizzie Richardson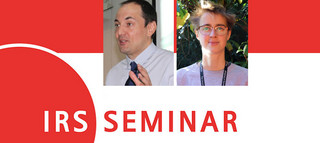 Stoyan V. Sgourev
Burning the Bridges: Authenticity, Innovation and Transgression in Norwegian Black Meta
Stoyan Sgourev will present his and Erik Aadland's, BI School of Management, Norway, paper "Burning the Bridges: Authenticity, Innovation and Transgression in Norwegian Black Metal". This study explores the dark side of an inherently positive construct - authenticity. Posing conformity (reproducing essential features) and differentiation (asserting distinctive features) as alternative routes to achieving authenticity, we document the escalation of the latter into normative violation. Escalation is the refusal of compromise as a way of reducing the gap between private self and public display. The research context is Norwegian black metal, unprecedented in music history in elevating extremity to a core principle of construction of artistic and collective identities. The authors examine two forms of escalation – as innovation and transgression (church burnings and murder). Escalation was mediated through the exclusion and self-exclusion of actors with lower tolerance for extremity. Its substantive importance is in adding a layer of complexity to evaluation. That black metal's connection to crime has contributed to its endurance suggests that escalating action defying normative scripts can be attributed authenticity when interpreted as sincere and consistent embodiment of alternative values. The authors paint a large canvass of the escalation process by drawing on examples in history, fiction and politics.
Vita
Stoyan V. Sgourev received his PhD in Sociology from Stanford University and is currently Professor of Management at ESSEC Business School – Paris. His research interests include network dynamics and market construction in historical perspective and practices of innovation and evaluation in the creative industries. His work is featured in the American Sociological Review, Academy of Management Journal and Organization Science,among others. He is an art collector and recently organized an exhibition of his personal collection of prints and drawings.
Lizzie Richardson
Platforms as spatial arrangements: materialising social space beyond the network
The spatial analytic of the network has been key to understanding how contemporary social life is technical. In the past decade though, the platform has arisen as a socio-technical form that is associated with but is distinct from that of the network. Initially examined in software and media studies, the spatial dimensions of platforms and how they relate to topographies or topologies of networks is now becoming of interest, notably in research focusing on platforms in cities and their relationship to urban space. Building on these studies, this talk introduces the potential of the platform as a spatial analytic for understanding contemporary socio-technical relations that draws on but also departs from the network. It does this not through a focus on a named "platform", but instead by taking a particular existing social relation, that of office business, in order to focus on the changes to its spatial form associated with the era of digital technologies. Offices are increasingly shared by multiple businesses who are engaged in the space for short periods of time, via what is labelled in the real estate industry the "space as service" model. Rather than the site for a single business network, the office as platform enables the gathering and dispersal of different networked business elements, allowing these networks to materialise alongside each other simultaneously and to alter their network content. These spatial logics of gathering and dispersal that underpin platforms and their staging of temporary display have implications for understandings of agency.
Vita
Lizzie Richardson has a background in cultural and economic geography, with much of her research focusing on workplaces, work practices and identities, including the changing geographies of work with digital technologies in the UK. She is also examining the socio-spatial dynamics of digital platforms for cultural and economic activities, particularly in urban contexts. Her paper "Feminist geographies of digital work" was awarded the Progress in Human Geography best paper prize in 2019. She held a Leverhulme Early Career Fellowship in the Department of Geography at Durham University, after working as a University Lecturer in the Department of Geography at the University of Cambridge. She is currently a Lecturer in Digital Media and Society in the Department of Sociological Studies at the University of Sheffield. Lizzie undertook her BA in Geography at the University of Cambridge and her MA and PhD in Human Geography at Durham University.