04. March | 2019
Inner Cities and the Crisis of Urban Governance: Britain and Beyond
IRS Seminar with Aaron Andrews | Leeds Beckett University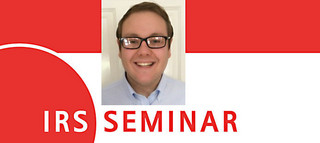 During this seminar Aaron Andrews will present his paper entitled "Inner cities and the crisis of urban governance: Britain and beyond". The presentation will be followed by a Q&A session opening a discussion on transnational perspectives.
Abstract
The "inner city" is both a transnational spatial construct – appearing first in urban discourses in the United States in the 1960s before entering the policy lexicon of Britain and Western Europe in the 1970s – and a real place, with nationally- and locally-specific histories. In these various national contexts, the inner city has been linked with a crisis of urban governance. While also drawing on other international examples, this paper examines the urban crisis in the British city of Liverpool from the late 1960s to the mid-1980s. Firstly, it shows how a growing body of social scientific knowledge led to the identification of the inner city as a spatial problem and underwrote the development of new policy initiatives by central and local government from the late 1960s. Secondly, it shows how the failure of central and local government initiatives led to the development of new forms of urban governance, especially the "neighbourhood council". Finally, the paper turns to a high-profile budget dispute between Liverpool City Council – then under the control of the Trotskyite group, Militant Tendency – and Margaret Thatcher's Conservative government from 1983 to 1986. It shows how both parties invoked the urban crisis to justify their ideological and policy positions, and thereby situates the inner city at the centre of a larger history of political change in 1980s Britain.
Biography
Aaron Andrews is a historian of twentieth-century Britain. He completed his PhD at the Centre for Urban History, University of Leicester, in April 2018 with a thesis entitled "Decline and the City: the Urban Crisis in Liverpool, c. 1968-1986". His research examines the relationship between secular processes of social, economic and environmental change, the development of social scientific expertise, and the social construction of urban space. He has published articles in Twentieth Century British History and Urban History. In March 2019, he will begin working as a researcher on the AHRC-funded "Forged by Fire: Burns Injury and Identity in Britain, 1800-2000" project at Leeds Beckett University.