05. August | 2021
The Multi-level Context for Local Climate Governance in Germany: The Role of the Federal States
IRS Dialog 3 | 2021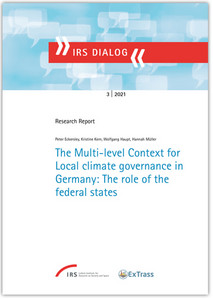 This report sets out how multi-level nature structures within the German state provide the framework within which cities develop and implement their climate policies. It explains how the energy priorities and requirements of individual federal states (Länder) have led to regional governments adopting different climate strategies, and how the various approaches of different Länder shape the context for municipal policymaking. Key findings in the report include:
Germany's federal system facilitates the development of interdependent, vertical relationships between tiers of government, in which elite policymaking actors seek to agree common policy positions and then help subnational governments to move forward at a similar speed. This desire for consensus can help to coordinate and implement policy effectively (e.g. during the initial stages of the Energiewende)

Policy ideas such as Climate Change Acts have also spread out horizontally between the Länder, and municipal governments also collaborate and share ideas through local networks.

In general, those Länder that do not have a historical reliance on fossil fuel resources, and/or in which the Green Party forms part of the governing coalition, have developed more ambitious climate strategies than others, and provided more resources to municipal governments to act on the issue.

The different economic and political interests of various Länder mean there is a risk that the desire to reach a consensus at the federal level may slow down progress on climate protection across Germany, and some states will pull further ahead of others
The report is a product of the ExTrass project (2018-2021), which is funded by the German Federal Ministry of Education and Research to help medium-sized and large cities in Germany to prepare for the increased frequency of extreme weather events, particularly heavy rainfall and heatwaves. The project examines the drivers and barriers for urban climate adaptation and mitigation, and provides a platform for knowledge exchange between cities. It focuses particularly on three case study cities: Potsdam, Remscheid and Würzburg.