22. November | 2021
Human Capital Migration, Innovation and Sustainability: Past, Present and Future
19th IRS International Lecture on Society and Space with Alessandra Faggian, Gran Sasso Science Institute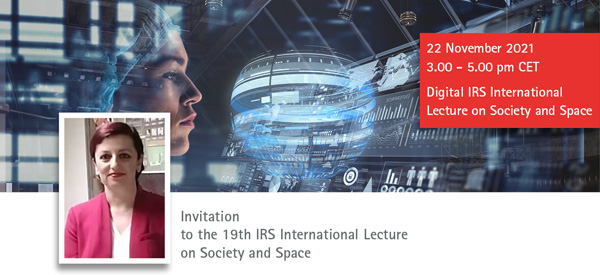 This IRS International Lecture on Society and Space will focus on the "human capital migration" phenomenon, i.e. the migratory behaviour of highly-educated, highly-skilled individuals. Much is known already on the determinants of human capital migration and also on the positive effects it has, in economic terms, on the receiving economies. However, what is still understudied is the link between the attraction and retention of high-human capital individuals and the new challenge of our era, i.e. a transition towards a more sustainable future also thanks to new, and more "green", technologies. After a brief excursus of what we know, from past studies, of human capital migration, Prof. Faggian will highlight some future paths for research aiming at filling this gap.
Discussant: Dr. Jana Kleibert, IRS
Vita
Alessandra Faggian is Professor of Applied Economics, Director of Social Sciences and Deputy Rector at the Gran Sasso Science Institute, L'Aquila, Italy. She is also Vice President of the Italian Economics Association (SIE). She has co-authored over 100 academic publications. Alessandra is the 2015 recipient of the Geoffrey Hewings Award by The North American Regional Council for outstanding research contribution by a young scholar in the field of regional science. In a 2016 ranking of the top 100 regional scientists in the world, she was ranked 19th. In 2020 she got the European Regional Science Association (ERSA) Award as best European regional scientist and in 2021 she got a Fellowship by the Regional Science Association International (RSAI) for her contribution to regional science worldwide.