11. July | 2022
Urban Branding Strategies and Spatial Reconfigurations in the 21st Century Berlin: From the Creative to the Connected City
IRS Seminar with Dr. Claudia Seldin | Associate Researcher at the Center for Metropolitan Studies of the Technische Universität Berlin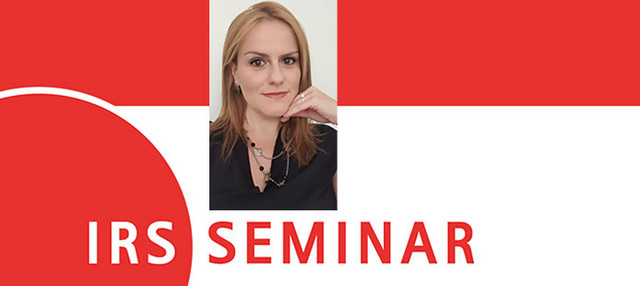 In August of 2020, at the height of the COVID-19 pandemic and following its first strict lockdown, the city of Berlin unveiled its new marketing campaign under the motto "Wir sind ein Berlin" (we are one Berlin). This motto, centered on collaboration and unity, came as a replacement to the former "be berlin" slogan, introduced in 2007 as part of a large set of policies to position Berlin globally as a strong 'creative city'.
As with every urban brand and State-led placemaking narrative, the 2020 campaign reflects not only renewed economic aspirations, but also recent spatial and societal transformations. But, what exactly are these new spatial and societal arrangements observed in Berlin within this 13-year interval? How do they reverberate locally and globally? How did the pandemic influence these new arrangements and who has access to them? And, finally, which new image does the city of Berlin wish to portrait for itself in the 2020s?
These are just some of the questions tackled by this seminar, which will present the evolution of Berlin's marketing and branding campaigns and some of its spatial consequences during the first two decades of the 21st century. This talk will put forward the hypotheses of an on-going shift in urban paradigms from the creative to the 'connected city'.
Firstly, it will explore Dr. Seldin's former research on Creative Berlin and the importance of temporary urbanism in defining its image as an alternative and subcultural European metropolis. Then, it will present the researcher's new project proposal, to be developed in partnership with the IRS Leibniz. This new project's goals include defining the concept of the 'connected city' and investigating its relationship to the knowledge, innovation and real estate sectors of the economy, the increasing digitalization and hybridization of life and space, and urban inequalities.
Bio
Claudia Seldin is a Brazilian architect and urban theorist, currently working as an associate researcher at the Center for Metropolitan Studies of the Technische Universität Berlin, where she was an Alexander von Humboldt Stiftung fellow from 2019 to 2022. She has a Master's degree and a PhD in Urban Studies from the Federal University of Rio de Janeiro (Brazil) with two collaboration periods at the Bauhaus-Universität Weimar (Germany). She is the author of the book "Imagens Urbanas e Resistências: Das Capitais de Cultura às Cidades Criativas (Urban Images and Resistances: From Capitals of Culture to Creative Cities)" (2017) and editor of "Culturas e Resistências na Cidade (Cultures and Resistances in the City)" (2018).