19. July | 2020
Between "Arrival Neighbourhood" and "Trap": Two Events at the IRS Highlight New Challenges of Integration in Cities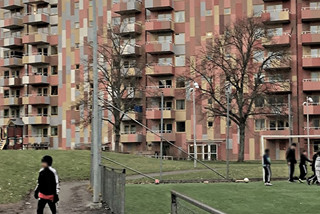 Since 2015, international migration to Germany has become a top topic of many political debates. In many East German cities, these debates are also taking place against the background of a growing concentration of refugees in certain residential areas. Especially peripheral prefabricated housing estates are currently developing into new "arrival neighbourhoods". This development raises many new questions in planning practice: Are the quarters in question developing into stepping stones that facilitate the integration of immigrants - or are new "ghettos" emerging here? What new tasks and needs arise at the neighbourhood level? How is this development processed politically? Two events were held at the IRS in July 2020, at which the challenges posed by arrivals' neighbourhoods were intensively discussed.
The events took place at the invitation of the former research department "Regeneration of Cities", which is intensively monitoring the outlined development in several research projects and is also in dialogue with practitioners. On 30 June 2020, the 16th IRS International Lecture on Society and Space, entitled "Arrival Cities and Neighbourhood Traps", dealt with the relationship between immigration in migrant neighbourhoods and social mobility or the lack of social mobility. It was organised as an online event and was followed live by over 100 registered participants. The lecture was uploaded to YouTube and can be accessed here.
The Canadian journalist and author Doug Saunders, who made the concept of arrival quarters popular worldwide with his book "Arrival City: How the largest Migration in History is Reshaping Our World" (2011), was invited as a speaker at the International Lecture. In his lecture, Saunders outlined the conditions for success and failure of neighbourhoods defined by immigration. He argued that arrival neighbourhoods provide economic and social opportunity structures that facilitate social advancement for migrants. The main reason for the emergence of arrival neighbourhoods is the low cost of housing and the existence of social networks that provide support to newly arrived immigrants. At the same time, international experience has shown that arrival centres can turn into social "mobility traps" in successive generations.
Saunders cited the following as the main reasons for this: poverty and the resulting reliance on cheap housing, blocked career opportunities (e.g. due to non-recognition of educational qualifications), deficits in higher education opportunities close to home, poor-quality schools, physical isolation and inadequate transport connections, as well as obstacles to setting up businesses. At the same time, Saunders stressed that cities can do much to address these problems. For decades, Saunders said, revitalization programs have been tested internationally, with both positive and negative experiences that can be learned from. While there is no "silver bullet", there are a number of effective approaches.
Nihad El-Kayed from the Berlin Institute for Empirical Integration and Migration Research (BIM) at Humboldt University underlined the complexity of the topic as a discussant. Referring to her own studies in German cities, she pointed out in particular that the problems described by Saunders arose in the interaction of circumstances that are located at different spatial levels and follow different logics. The everyday life and mobility practices of refugees are also not exclusively concentrated in their residential quarters. An exclusive focus on the neighbourhood could therefore easily fall short.
On 9 July, the topic of arriva neighbourhoods was discussed once again at the 48th Brandenburger Regionalgespräch - online and initially without an audience. It was then published as an audio contribution in the IRS Institute Podcast Society@Space on 17 July. Stefanie Kaygusuz-Schurmann (Head of the Service Department for Education and Integration of the Cottbus City Administration) and René Wilke, Mayor of the City of Frankfurt (Oder) took part in the discussion as practitioners. Madlen Pilz represented the IRS research on arrival quarters.
Kaygusuz-Schurmann, Wilke and Pilz exchanged views on the issues of arrival, integration, municipal design options and social interaction in everyday urban life. They addressed the difficulties with the concept of the arrival quarter, which despite growing popularity has not yet been conclusively spelled out either scientifically or in terms of local politics. In addition, the conditions for municipal integration work in Cottbus and Frankfurt also differed from the arrival quarters described by Doug Saunders: Both municipalities can finance numerous projects, contact points and also job opportunities with the help of the Brandenburg state fund for municipal migration social work. The large stock of municipal ownership of housing opens up broader scope for action by the municipalities in terms of housing for immigrants.
During the discussion it also becomes clear that the term "arrival neighbourhood" opens up new perspectives. Their focus is not so much on the difficulties for newcomers: getting through the difficult initial periods, organising their new daily routine, establishing new contacts and networks or gaining a foothold in the world of work. The focus is more on their creativity and their high level of commitment in this process. This aspect needs to be taken into account even more in order to make municipal integration work more successful, e.g. to make bureaucratic regulations more flexible where they prove to be barriers for newcomers, as is sometimes the case with integration into the world of work. Stefanie Kaygusuz-Schurmann summed up by saying that the concept of the arrival quarter has an inspiring power that needs to be used creatively.