28. February | 2020
IRS hosts record number of international guest researchers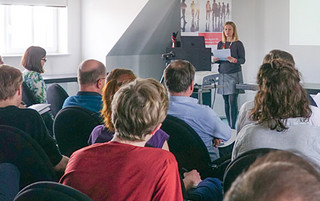 In 2019, the IRS hosted 12 international guest researchers – more than ever before. This is the result of the institute's long-term strategy of increasing its international visibility and promoting international cooperation. Guest researchers participating in or contributing to unique IRS programmes such as the IRS Spring Academy, IRS Seminars and IRS International Lectures allows them to engage in dialogue with IRS scholars and other experts.
Every year, the IRS hosts numerous guest researchers. During their stay, some pursue their own research projects, while others collaborate with IRS scholars, writing joint research proposals or working on publications. Sometimes, guest researches also organise seminars and workshops or give talks. While some stay with the IRS just for a few days, others spend months or even a year with the institute. Guest researchers and IRS scholars both greatly benefit from this arrangement. By working and spending time together, they get to know each others' national research cultures, and develop a better understanding of their respective research fields and workflows. The IRS encourages international scholars to visit the institute and its own researchers to stay with partner institutions abroad.
In 2019, the IRS hosted 12 international guest researchers – more than ever before. They joined a variety of research departments, studying a wide range of different topics, as the following examples illustrate:
Aaron Andrews of University of Leicester spent four weeks with the former IRS Department for Historical Research in spring 2019 to work on a joint research grant proposal. The scholars aim to examine the decline of historic city centres in Germany and Great Britain. Ute Lehrer of Toronto's York University also came to the IRS last spring. During her two-week stay with the former "Regeneration of Cities and Towns" research department, Lehrer studied the latest developments in Germany's land and housing market to compare them with the Canadian situation. Holding the 14th IRS International Lecture on Society and Space, Lehrer spoke about the global land question and global (sub)urbanisation processes. During the summer of 2019, meanwhile, Kadri Leetma of Estonia's University of Tartu spent two weeks with the institute's former "Dynamics of Communication, Knowledge and Spatial Development" research department. While at the IRS, Leetma set up a collaborative research project on the roll out of digital technologies in rural spaces and organised a joint workshop. Later that summer, Philipp Altmann of Universidad Central del Ecuador joined the former "Institutional Change and Regional Public Goods" research department for a month. Altmann, who studies alternative concepts of wealth in the context of Latin America's indigenous cultures, spent this time co-authoring an article with IRS scholars. And in autumn, Xiangming Chen of Trinity College, Hartford (Connecticut), joined the "Dynamics of Economic Spaces" research department for several days. Chen is an expert on China's Belt and Road Initiative (BRI), better known as the New Silk Road.