19. November | 2018
Leibniz Junior Research Group Leader Dr. Jana Kleibert of IRS receives RSA Routledge Early Career Award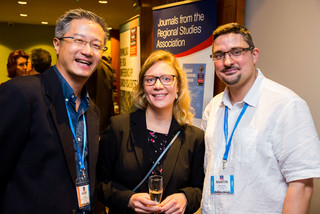 On November 15th 2018, Dr. Jana Kleibert received the Regional Studies Association's RSA Routledge Student and Early Career Award in London. She received the award for her paper 'Global Production Networks, Offshore Services and the Branch-Plant Syndrome', published in 2016 in Regional Studies.
The paper is based on Jana's PhD work at Amsterdam University, in which she studied offshoring (relocation of steps in a value chain) in the service industry, using the example of call centers in India and the Philippines. By focusing on services, she added an important new perspective to the otherwise manufacturing-centric literature on Global Production Networks. In her paper she argues that service offshoring does not necessarily induce economic development in receiving regions in the Global South. Rather, dependence is reinforced, particularly in locations which do not play in the first league of 'Global Cities'. Prior to this award, Jana received the RSA Best Paper Award (Best Conference Paper), Early-Career Category, in 2017, the American Association of Geographers (AAG) Economic Geography Specialty Group's Best Paper Award, Graduate Student Competition, in 2015 and 2014, as well as the Singapore Journal of Tropical Geography (SJTG)'s Best Paper Award in 2015.

Jana currently leads the Leibniz Junior Research Group "Constructing Transnational Spaces of Higher Education" (TRANSEDU) at the IRS and at the Humboldt-University of Berlin, which studies the creation of international university branch campuses. From 2017 to 2018 she was Visiting Professor in Economic Geography at the Goethe University of Frankfurt / Main. Since June 2015 she works as Post-Doc in the research department "Dynamics of Economic Spaces" of the IRS in the research project "Geographies of Dissociation", which focuses on forms of value creation in the global fur industry. Prior to this, she researched and taught at the University of Amsterdam, the Free University of Berlin and was visiting scholar at the geography departments of the National University of Singapore (2016), the University of Manchester (2015, 2016) and the University of British Columbia (2014).
Dr. Jana Kleibert received the award at the RSA President's Dinner and Awards Ceremony in London on 15 November 2018.