08. September | 2017
Journal Lecture of Raumforschung und Raumordnung | Spatial Research and Planning at this year's German Congress of Geography
The journal lecture opens with a key note presentation entitled "The Poverty of Territorialism – Neo-Medieval Spatial Planning" and held by Prof. Dr. Andreas Faludi (TU Delft, The Netherlands). Professor Faludi will argue in his presentation for (Kopie 1)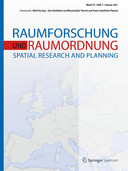 The journal lecture opens with a key note presentation entitled "The Poverty of Territorialism – Neo-Medieval Spatial Planning" and held by Prof. Dr. Andreas Faludi (TU Delft, The Netherlands). Professor Faludi will argue in his presentation for accepting overlapping territorial and functional arrangements, much like in the empires of the Middle Ages. Based on that input the audience is welcome to discuss these and further issues with Prof. Faludi. The discussion is chaired by Prof. Dr. Sebastian Lentz, one of the journal's co-editors and director of the Leibniz Institute for Regional Geography (IfL) in Leipzig.
A reception rounds off the journal lecture and both the editors and Springer-Verlag are looking forward to welcoming you there. You will have the chance to meeting peers and friends while enjoying coffee and cake. Likewise, the editors and Prof. Faludi will be there for further questions and discussions.
The Journal Lecture takes place on Saturday, September 30, 2017 (12:30–1:30 pm, reception afterwards). The venue is the Universität Tübingen, NA-Aud (Neue Aula).