15. June | 2017
A Rich History and Promising Future – IRS Research Partnerships with Polish Institutions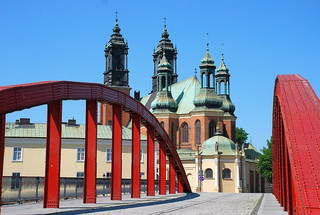 The IRS' internationalisation strategy exhibits a distinct geographical focus. This is driven by the conviction that such a focus allows scholars to pursue in-depth research on matters pertaining to these regions, and to establish productive and lasting relationships with other scholars and academic institutions. The IRS has concentrated its internationalisation efforts on North America, Scandinavia and Poland. Variegated ties to the latter country were established twenty years ago and have been intensified in the context of the IRS' internationalisation strategy and through on-going collaborative research projects.
In November 2014, IRS director Prof. Dr. Heiderose Kilper and Prof. Dr. Jacek Witkoś, vice director of Research and International Affairs at Adam Mickiewicz University in Poznań (AMU), signed a cooperation agreement between both institutions. It was the culmination of numerous prior meetings between the IRS and the AMU's sociology department, and laid the groundwork for many collaborative research projects. In her speech at the kick-off meeting in February 2015, Kilper emphasised the manifold endeavours, like academic residencies and joint research proposals, that already connect both institutions, and that she wished to intensify this cooperation in the coming months and years.
Now, two years since the signing of the cooperation agreement, Prof. Dr. Gabriela Christmann looks back with satisfaction on the numerous collaborative projects that have been initiated by IRS and AMU researchers. Christmann heads an IRS research department and acts as a liaison between the IRS and the AMU's sociology department. She has initiated numerous research proposals that draw on IRS and AMU researchers' expertise regarding social innovations in rural areas and the German-Polish border region. One of these proposals gave rise to the EU-funded European Training Network "RurAction" which connects both institutions with other academic institutions as well as companies as part of a large network. The "RurAction" project entails an elaborate doctoral programme.
Christmann considers close personal ties and a lively exchange of ideas fundamental to writing joint research proposals and maintaining a fruitful academic cooperation. Dr. Łukasz Rogowski from AMU's sociology department, for instance, spent October 2015 as a visiting scholar at the IRS. He works on the "RurAction" project as an expert on visual methods and will instruct doctoral scholars on how to keep "visual research diaries" of their field research. The project will culminate in a film that traces the genesis of social innovations in rural regions and presents research findings in an accessible way. Ties between both institutions are being strengthened in other ways, too. In December 2016, Rogowski held a seminar for Polish students at the IRS in which he introduced them to a selection of IRS research topics. Similarly, two IRS scholars will teach two intensive courses at AMU in the summer of 2017.
The IRS can look back on a long and fruitful history of cooperation with Polish research institutions. During the 1990s, a cooperation agreement was signed between the IRS and the University of Warsaw. Similarly, a precursor agreement to the present AMU agreement was signed. And the IRS has been involved in various cross-border research endeavours, like the "BorderUni" project. It examined processes of cross-border institutional leaning facilitated through university collaboration at the German-Polish border, and analysed how this contributed to European integration. Whereas the "Know-Man" Interreg project brought together the IRS, a Polish voivodeship, a technology park and the University of Warsaw's EUROREG Centre to study technology parks in the context of research, business and regional development. These cooperative efforts are crucial for the IRS as they help establish long-lasting institutional ties among various partners, stresses IRS director Heiderose Kilper. Nevertheless, each new generation of scholars must establish and then deepen ties of their own.
The IRS' internationalisation strategy was initiated in 2012 and has been rather successful in this respect. Fostering academic exchange programmes has been an important element of the strategy. In previous years, eight Polish scholars stayed at the IRS as guest researchers for extended periods. These stays often led to joint publications, lectures and research proposals. The IRS-funded Fellowship Programme supported these guest researchers and thereby helped strengthen ties with Polish academics.
Yet strategies alone will not suffice, stresses Kilper. It is impossible to plan everything, which is why it is equally important to seize opportunities when they arise. And a cooperation agreement signed between the Leibniz Association and the Polish Academy of Sciences presented exactly such an opportunity for the IRS. In autumn 2013, Prof. Dr. Peter Haslinger from Marburg's Herder Institute was tasked by the Leibniz Association to travel to Poland with a delegation of humanities and social science scholars to establish research partnerships. Gabriela Christmann was part of the delegation and encountered Dr. Anna Barcz from the Polish Academy of Sciences' Institute of Literary Research in Wierzba (Warmian-Masurian voivodeship). It soon transpired that both scholars shared many common research interests, despite belonging to different academic disciplines, and that these shared interests could potentially lead to highly original research efforts. Barcz thereupon visited the IRS, which culminated in the submission of a joint research proposal to the DFG-NCN "Beethoven" programme. The proposal was a success and initiated the "Socio-Cultural Constructions of Vulnerability and Resilience. German and Polish Perceptions of Threatening Aquatic Phenomena in Odra River Regions" (CultCon) project which began in the summer of 2016.
The IRS' excellent and vibrant cooperation with its Polish partners is defined by a rich tradition and promising future, by personal and intellectual proximity, a strategic approach and ample opportunities for collaboration.