11. May | 2017
Open Region: Creating and exploiting opportunities for innovation at the regional scale
Article released in "European Urban and Regional Studies"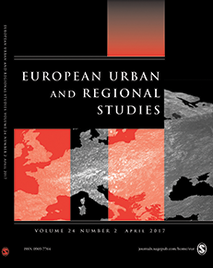 Innovation is considered an important asset for economic growth. This is why the stimulation of innovation processes has been a core strategy for regional development policies for a long time. These policies have been relying on cluster-based approaches and by that on the spatial proximity of actors involved in innovation processes. As a result of year-long research on spatial and temporal aspects of innovation processes researchers of the IRS Research Department "Dynamics of Economic Spaces" developed a new approach called "Open Region" which accounts for – among other aspects – the high mobility of ideas and innovations. In a recently published article in "European Urban and Regional Studies" the concept is explained in detail.
Abstract of the article
"The starting point of the article is the observation of an increasing convergence of regional development and innovation policies. These policies are heavily influenced by territorial innovation models that have been extensively revised since they first came about over 30 years ago. Yet, more recent trends towards digitalisation and conceptual advances towards a time-spatial perspective on innovation processes require a more fundamental re-thinking of the nexus of development, innovation policies and territoriality. This paper therefore aims to advance an agenda for reconceptualising region-based innovation policies beyond the assumptions of territoriality implicit in territorial innovations models and related policy schemes. "Open Region" is a heuristic way of thinking about proactive policy measures for redesigning the dialectic interplay between territorial openness and closure. These measures, in essence, aim at creating and exploiting opportunities for innovation within a region by mobilising external expertise and establishing local anchors for innovation. Finally, we address the limitations of applicability and discuss incentives for regional actors to embark on Open Region strategies. The suggested measures can work together, yet it is also possible to utilise them in an eclectic manner or to selectively recombine them in order to address different local conditions."
Schmidt, S., Müller, F. C., Ibert, O., & Brinks, V. (2017). Open Region: Creating and exploiting opportunities for innovation at the regional scale. European Urban and Regional Studies.