23. January | 2017
IRS launches new project adressing sustainable logistics and urban development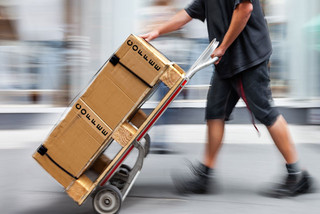 Changes in the production of goods, in consumption patterns and transportation are forcing urban quarters to adapt. In recent times, there has been a significant rise in the quantity of goods ordered and delivered. Increasingly, groceries for immediate consumption are also being ordered and delivered, alongside other more common products. The resultant rise in the quantity of transported goods, and the emergence of an intricate delivery network, poses a major challenge for cities: as ever more delivery vehicles navigate city streets, pollution and traffic congestion increase, while traffic accidents become more likely.
Germany's Federal Ministry of Education and Research has launched the 'Urban quarter 4.0' (Stadtquartier 4.0) research project to identify and experiment with solutions to the above mentioned challenges. To this end, the project's contributors (the IRS, the Fraunhofer Institute for Production Systems and Design Technology, the LogisticNetwork Consultants GmbH and Holzmarkt 25 eG) are pooling their expertise in logistics, transportation, urban farming and aquaponics to explore possible solutions. They strive to identify sustainable solutions that encourage the local production of goods and make use of cargo bikes, off-peak times and shared delivery vehicles, among other things. This is intended to create a networked, viable and sustainable logistics system that will reduce inner-city traffic in the long-term. This logistics system will be tested on Berlin's Holzmarkt site.
It is crucial that the project's contributors participate in implementing this novel logistics system, as this underscores the importance of social processes in shaping sustainable urban transformations. The IRS is involved in designing and implementing the project, as well as in scientifically analysing all concomitant processes. In this context, the IRS can draw on insights gained from its previous research on crises and resilience-building, social innovations and the communicative transformation of space. The scholars will examine the strategic practices of key actors and users, analyse whether their actions gain acceptance, and study participatory issues in this connection. Moreover, IRS researchers will contemplate whether the 'Urban quarter 4.0' model may be applied in other cities. They will interview experts, asking them which infrastructural, logistical, planning, communicative and participatory conditions are conducive to the dissemination of novel ideas concerning logistical management, local commodity circulation, or the sharing of utility vehicles. IRS scholars will coordinate the 'Urban quarter 4.0' project and ensure that insights gained are shared with the scientific community, the political sphere and society at large.
A unique feature of this project is that it is interlinked with the IRS lead project on 'Innovations in Rural Municipalities', which examines actors involved in and processes of creatively fostering rural municipalities. By linking both projects, it is possible to systematically compare six rural municipalities and an urban quarter to better understand how key actors and users shape social innovations in different spatial settings. This comparison also sheds light on whether such involvement is conducive to the implementation of projects, if this increase overall support for them, and whether participation is advantageous to the sustainable transformation of spatial contexts.