02. November | 2016
Open creative labs in Germany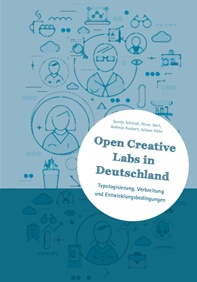 During the past decade we could observe the vast creation of open spaces dedicated to tinkering, experimentation, creative and freelance work as well as entrepreneurship primarily in Western, industrialized economies but also beyond. The scene of operators and users of such places typically refer affirmatively to a community culture in which manufacturing tools and digital technologies are flexibly accessible and knowledge and expertise are shared collaboratively among peers.
Mission statements claim that within the boundaries of such places the modalities of the economic logic is altered fundamentally: "We are reshaping the economy and the society through social entrepreneurship and innovation. Our communities are coming together to rebuild more human scale, networked, and sustainable economies to build a better world." (Coworking Manifesto)
The emergence of Open Creative Labs can be interpreted in the light of more general societal processes:
Project-based work has become a predominant form of organizing work and labor.
Firms increasingly open up internal research and development processes to external actors ('open innovation').
Entrepreneurial agency is increasingly taken by unusual suspects, such as users, enthusiasts or communities.
Academic research increasingly includes citizen scientists.
Among consumers there is a growing frustration and disregard of the for-profit logic of technological developments underpinned by an increased desire to regain control and authorization over omnipresent (digital) technologies.
We use Open Creative Labs as an umbrella term to capture the diversity of open, creative, collaborative and community-oriented places. The nature of Open Creative Labs can be defined along the following dimensions: Open Creative Labs…
offer a permanent physical, organizational and institutional framework for diverse forms of temporary and flexible uses,
cultivate a "social curation" and thus create a new dialectic between (formal) openness and (informal mechanisms of) closure,
intertwine and overlap virtual, physical and relational spaces,
institutionalize informal and formal rules of mutual support, helpfulness, openness and willingness to share,
allow users to define research problems according to their own criteria and thus promote a problem-driven, user-centric creativity,
are notoriously incomplete in their design and
function as liminal spaces in which career transitions take place.
The broschure is available in german language and can be downloaded through the project website.