21. November | 2018
Working with vulnerable communities – adopting an empowering and emotionally grounded methodology
IRS Seminar with Thomas Wimark | Stockholm University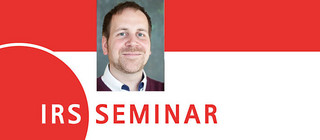 Thomas Wimark will talk about ways to employ empowering methodologies when working with vulnerable and (un)documented individuals. He will discuss this in the light of his current work with queer refugees in Sweden.
Further he will illustrate research outputs from empowering methodologies with a focus on asylum accommodation in Sweden.
Bio: Thomas Wimark, PhD, is a researcher at the Department of Human Geography at Stockholm University. His interests concern the nexus between migration, residential mobility and minorities, especially sexual minorities.