19. July | 2017
Territorial Resilience in a Contemporary Chinese Urbanism
IRS Seminar with Charles Yán Guō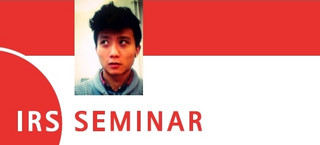 Earthquakes, as a primary natural disaster, change our human geography radically; yet, the urban recoveries following the disasters usually lead to even more complex and progressive modifications, if not mutations, in our social and spatial cities. As the disciplinary focus extends to the fundamentals that define the post-disaster territories, and to the inquiries how we can rebuild them sustainably in social and spatial terms, territorial resilience plays an increasingly critical role in the recovery process, both as a concept and a practice. This talk will present a research project that attempts to tackle the multifaceted natures of resilience, both as an urban trait embedded in such post-disaster territories and as an instrument for its design and planning.
Charles' research entered from empirical studies of three cases post-disaster recoveries in the post-reform (1976') era of China, namely Tangshan (1976), Lijiang (1996) and Sichuan (2008), constructing an instrumental triptych of the paradigms that represent an index of the contemporary history of Chinese urban planning and urbanisation. However, the preliminary study has identified the limitation in our current outlook on urban resilience, which is embodied to its dominant attribute, the tangible urban capacity for the city to recover. Furthermore, it revealed the necessity to elaborate the investigation towards the recessive attribute of resilience, which considers the social power reserves inside the territory and develops along the territorial modification. For this, in turn, to a greater importance, defines the process and product of the post-disaster recovery. As an urbanistic response to the inquiry, the research proposes to construct a series of counterfactual historiographic scenarios, correspondently to all three cases, to imagine "what if" a plausible reality could have happened otherwise, in order to reveal the unseen natures of resilience that were already there yet concealed in the territory since ever.
Short Bio
Charles Yán Guō is a PhD (co-tutelle) candidate in urbanism at University IUAV of Venice and Brandenburg University of Technology (BTU) Cottbus – Senftenberg. As an architect and urbanist by training, he joined the IRS this year to complete his dissertation. He holds a B.Eng in Architecture (from Yangtze University), a postgraduate European Master of Urbanism (from KU Leuven) and a M.Sc of Urbanism (from TU Delft), where he completed his master thesis on post-disaster urban reconstruction and where he coordinated and taught in a research-by-design studio on post-disaster reconstruction. As a starting point to his academic development, he served as a guest editor for a special issue of "Disaster and Urbanism" at the International Journal of Disaster Risk Sciences.