22. June | 2017
Migration, Borders and Urban Space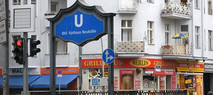 The workshop brings together Turkish academics currently working in Germany on the topic of "Migration, Borders and Urban Space". They represent different disciplines including political science, regional planning, urban sociology and communication; and so their project presentations will offer different perspectives on the issue of migration. The workshop consists of three scientific panels and one panel focusing on research and career prospects for threatened researchers from Turkey. The attending members of "Turkish Academics for Peace" will meet after the workshop. Guests are welcome.
The programme includes the following lectures:
Participatory Attitudes of the Turkish Migrant Communities in Berlin's Urban Policy, Assoc. Prof. Dr. Tuba İnal Çekiç (Humboldt University)
Urban Regeneration and the Interaction between Migrants from Turkey and Syrian Refugees in Berlin, Dr. Burcu Togral Koca (IRS)
Media and Migration, Prof. Dr. Mine Gencel Bek (University of Siegen)
Immigrants from Turkey and their integration in Europe- Cases from Belgium, Germany and the Netherlands, Dr. Ergün Özgür (Bonn University)
Migrant/Refugee Labour in Agricultural Sector: Case of Mersin, Turkey Dr. Bediz Yılmaz, (Osnabrück University, IMIS)
Urban Regeneration and Syrian Refugees in Mersin, Dr. Ali Ekber Doğan (University of Siegen)
Border Politics, Syrian Refugees and Violence in the Southeastern Margins of Turkey, Dr. H. Pinar Senoguz (Göttingen Georg-August University)
Concluding the workshop will be a Round Table Discussion on "Threatened Researchers from Turkey and Prospects for their Research and Career"