02. May | 2017 - 05. May | 2017
IRS Spring Academy 2017
Investigating Space(s): Current Theoretical and Methodological Approaches: Temporality and Procedurality
In the past two decades the interdisciplinary field between spatial and social sciences has undergone an extraordinarily dynamic development with a high potential for innovation. On the one hand, many social-scientific disciplines performed a "spatial turn" and became more interested in integrating spatial concepts and terminology. On the other hand, disciplines like human geography or spatial planning, understand space less as an exclusive object of analysis and instead emphasis a "spatial perspective" as a shared ontological ground. This has opened up a broad "trading zone" within which novel conceptualizations of space and spatiality are negotiated in an interdisciplinary field. Against this background, the Leibniz Institute for Research on Society and Space (IRS) together with different academic partners and supported by the Volkswagen Foundation launches a series of three successive Spring Academies entitled "Investigating Space(s): Current Theoretical and Methodological Approaches".
Each event will focus on different aspects of the emergent thriving field. The opening event, the "IRS Spring Academy 2017: Part 1 Temporality and Procedurality" will take place from 2-5 May 2017 at the IRS in Erkner and at the Technische Universität Berlin. Part 2 on "Virtual Realities and socio-spatial practices" will follow in 2018 and Part 3 on "Topologies" in 2019.
Part 1 in 2017: Temporality and Procedurality
Part 1 of the Spring Academy Series highlights the growing interdisciplinary interest in an integrated view at spatial patterns and temporal dynamics. Examples are the spatio-temporal analysis of innovative and creative processes, the time-spatial spread of policies among cities, the time-spatial patterns of the transition of infrastructures or technological systems, or the path-dependent development of technologies, social networks and institutions. Process-based, spatio-temporal analyses are both conceptually inspiring and highly demanding. For example, the very notion of process itself is all but selfexplanatory. When does a process begin and how does it end? What different understandings of process are there? What is the relationship between fixed structures and fluid emergence? How are process linked to historical events? And what are the underlying conceptualizations of time?
The empirical investigation of processes and time-spatial dynamics poses significant methodological challenges. For example, processes are no naturally defined objects of analysis that can be simply taken for granted. Rather, the research can identify them in the ongoing flow of events only by way of social construction, the so called "bracketing". Similarly, the recording of longitudinal data for process analysis is connected to a number of specific challenges. The amount of data grows rapidly; ex-post reconstruction is distorted by memory lapses as well as by the re-interpretation of events; participant observation easily can turn into a time-consuming effort.
The goal of the IRS Spring Academy is to enable junior researchers from the social sciences of all stripes to identify relevant research gaps in these highly dynamic fields, to encourage them to use a spatial perspective in their analyses and to learn from world leading experts in the field about innovative methods for empirical work. Participants will have the opportunity to present their projects in paper pitch formats and to access world leading experts for one-on-one consultancies. We therefore cordially invite doctoral and early postdoctoral researchers in the social sciences, geography and history to join us for an interesting program to discuss their own research with internationally leading scholars and their peers.
The IRS Spring Academy combines well-tried and proven formats such as lectures and seminars with less common formats such as doing-research workshops, paper pitches, "Meet the Editors" as well as academic speed dating. Crucial for this combination is the idea to support different ways and intensities of the active participation of junior researchers, from the pointed short contribution during the paper pitch as far as to reflecting on challenges of the research process in the context of the doing-research workshops. Furthermore, there will be many opportunities for establishing and consolidating networks, both among each other and with leading representatives of relevant disciplines. Below you find a brief description of formats and an outline of the program.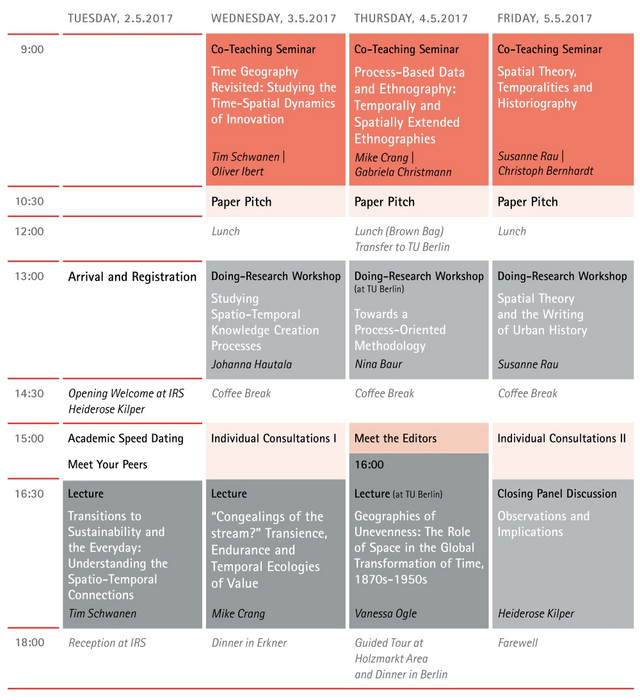 The programme of the IRS Spring Academy combines different elements and thereby offers plenty of opportunities to debate issues and methodological challenges as well as to engage in critical, yet constructive and supportive dialogue.
Academic Speed Dating and "Meet Your Peers" | In a series of quick one-on-one meetings participants will introduce themselves and ask each other questions about their backgrounds, research and expectations of the IRS Spring Academy programme. This will help the participants with quickly becoming familiar with each other and sets starting points for further exchange.
Paper Pitches | In three paper pitch panels 8-9 participants will be given five minutes to present their essential research questions, the argument and how it is relevant to the topics of the IRS Spring Academy. Each participant will prepare his/her individual pitch beforehand so it will be ready for presentation (max. one PowerPoint slide is allowed). The pitches are followed by a discussion moderated by a senior researcher from the IRS.
Lectures | Renowned national and international researchers present their current research in a 45-minute lecture. This is followed up by another session containing both a comment from an IRS senior researchers and a round of discussions. The lecture sessions will also be open to external participants.
Co-Teaching Seminars | These seminars scheduled each morning provide the opportunity for in-depth discussions with the lecturers of the previous evening. They will be co-taught by the lecturer and a senior researcher from the IRS. By presenting the experiences of both senior researchers not only the learning effects concerning each topic will be consolidated, but also their different approach regarding methods, theories and the respective institutional preconditions will be highlighted and discussed.
Doing-Research Workshops | In these workshops facilitators will give frank accounts of finalised or recent empirical research projects and provide practical and methodological insights regarding research designs and the implementation of studies with a spatial perspective. They will demonstrate how to collect and handle data, how to focus on the object of analysis, and how to deal with unexpected outcomes. Participants are encouraged to share the practical challenges in their own research, to reflect upon practical problems while collecting or interpreting data and to give constructive feedback on each other's research strategies.
Meet the Editors | This format brings together editors and members of the editorial boards of journals in the field of spatial analysis to discuss criteria for selecting and revising manuscripts. To this end, participants are given the opportunity to get insights on working processes of editing. In the course of this session they will be able to discuss and reflect upon their own as well as their colleagues' publication strategies.
Individual Consultations | In these one-on-one sessions the participants will be given the opportunity of an individual conversation with one of the lecturers or an IRS senior researcher, to discuss issues of their research and receive advice from experienced researchers in a protected space.
Guided Tour at Holzmarkt Area | A visit to the Holzmarkt Area in Berlin's Friedrichshain-Kreuzberg district will be the part of the social programme. The location at the Spree riverbank provides an outstanding real-life case for the topics of the IRS Spring Academy. During a guided tour, participants will learn how urban developers have transformed the highly-contested, constantly changing Holzmarkt Area, initially an experimental cultural lab for citizen protest against urban development politics, into one of Berlin's cultural hotspots.
Prof. Dr. Nina Baur | Technische Universität Berlin
Nina Baur holds a PhD in Sociology from the Otto-Friedrich-University of Bamberg (Germany) and was Visiting Researcher at Universities in Syndey and Melbourne (Australia), as well as Yale University (USA). She researches and teaches methods of spatial analysis with an empirical focus on economic sociology and sociology of organization. She is specifically interested in qualitative as well as quantitative methodologies of time and process analysis. Nina Baur is currently Managing Editor of the Journal "Historical Social Research" (HSR) and serves in the Editorial Board of "Current Sociology Monograph".
Prof. Dr. Mike Crang | Durham University
Mike Crang graduated from the University of Cambridge (UK) and gained a PhD from the University of Bristol (UK). His main research areas within human geography involve those relating to social identity, theories on space and human perception of space, as well as critical theories. He has worked extensively on the relationship of social memory and identity with an empirical focus on practices of public and oral history, photography and museums. He is specifically interested in issues regarding time-space, action and temporality. His interests in this area led to a collection on spatiality and social theory ("Thinking Space", edited with Nigel Thrift).
Dr. Johanna Hautala | University of Turku
Johanna Hautala has been a research fellow at IRS Erkner. Her research focuses on the specific spatial conditions for the creation of knowledge within the field of arts and sciences. Her dissertation "Academic Knowledge Creation as a Spatio-Temporal Process: The Case of International Research Groups in Finland" was awarded the best dissertation in economic geography in 2011 by the Economic Geography Specialty Group of the Association of American Geographers. She is currently leading a research project on "Knowledge Creation Processes" funded by the Academy of Finland.
Dr. Vanessa Ogle | University of Pennsylvania
Prior to joining Penn's Department of History in 2011, Vanessa Ogle completed a doctorate in history at Harvard University (USA). In 2013/14, she was a member at the Institute for Advanced Study - School of Social Science in Princeton (USA). She received thematic training in both modern Western European and Middle Eastern history. The interactions between Europe and the Middle East are one of her main areas of interest and expertise. Vanessa Ogle writes about the history of modern Europe from an international and global perspective. For her book "The Global Transformation of Time" she was awarded the International Research Award 2016 in Global History.
Prof. Dr. Susanne Rau | University of Erfurt
Susanne Rau obtained her PhD in History at the Universität Hamburg (Germany) and was a visiting professor (Directeur d'études associé) at Fondation Maison des Sciences de l'Homme in Paris. Susanne Rau further is guest professor at École Normale Supérieure (France) and associated member at the "CIHAM - Histoire, Archéologie, Littératures des Mondes Chrétiens et Musulmans Médiévaux". At the University of Erfurt, Susanne Rau currently serves as Vice-President for Research and and Promotion of Young Scholars. In her research she focusses on Urban History in Europe and is particularly interested in historical concepts, perceptions and especially the use of spaces.
Dr. Tim Schwanen | University of Oxford
Tim Schwanen completed his PhD in Urban Geography and was lecturer at Utrecht University (NL). In his research he focuses on geographies of mobility and ageing. He is specifically interested in research methodology and conceptualisations of time in geography. Tim Schwanen is deputy director of the RCUK funded Research Centre on "Innovation and Energy Demand" (2013-2018)". In addition, Tim Schwanen is currently the editor-in-chief of "Journal of Transport Geography" and serves on the editorial advisory boards of "Environment and Planning A" as well as "Transportation and Travel Behavior and Society".
Photo: ESB Professional/shutterstock.com