07. May | 2015 - 08. May | 2015
Creativity in Arts and Science: Collective Processes from a Spatial Perspective
Interdisciplinary Conference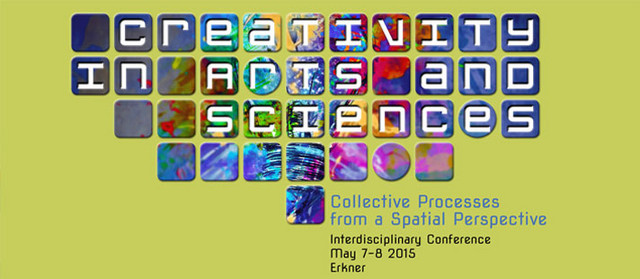 Creativity, or the generation of novel and valuable knowledge, is a collective endeavor. Lying at the core of academic breakthroughs and masterpieces of art, creativity is also the main driving force in the development of industries and whole economies in knowledge-based societies. Therefore, creativity is a central and interdisciplinary concern in fields such as economic geography, sociology, organization studies and anthropology.
However, despite the broad interest in processes of collective creative work, artistic and academic creativity are still often treated as if they were separate fields. Whereas accurate, internally logical and plausible academic knowledge follows strict conventions, aesthetic artistic creativity is referred to with expressions such as emotions and subjective experiences. These brief descriptions obviously overstate the differences between both fields, as practice-based research has highlighted. Nevertheless, comparative studies are rare.
An important reason for comparing creativity in arts and sciences is that they both presently undergo similar economic and societal changes. Traditionally the fields have been detached from society and economy in order to properly unfold their own internal logics. This has been enabled by public funding, specific education and equipment. However, with lessening public money worldwide, funding science and arts relies increasingly on impact, economic development and entrepreneurial behavior that the artists and scientists need to adopt. In addition, the progress in technology and education has blurred the line between hobbyists and professionals.
The main goals of the interdisciplinary conference are:
To bring together scholars representing different disciplines within the social sciences, who have done excellent research on artistic and/or scientific creativity and invite them to give presentations on similar topics.
To explore in how far spatial categories can provide boundary concepts for an interdisciplinary trading zone. Creative processes are necessarily situated in space and time – perspective that is explicitly important in economic geography but not necessarily in adjacent disciplines. We selected the concepts of "place/milieu", "mobility/travel", and "centre/periphery" to provide arenas for fruitful discussion.
Link: Conference Website