Urban Transformations
No. 11 | March 2016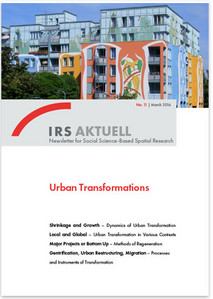 For years, the regeneration of cities has been a major focus for social scientific urban researchers at the IRS. In recent times, the institute has devoted particular attention to the causes and consequences of peripheralisation processes in economically underdeveloped regions and within large cities. The IRS has also begun studying schemes like the Urban Redevelopment Programme for the New Federal States. A joint appointment by the Technical University of Berlin and the IRS has lent further weight to this research area and embedded it within a larger context of international urban transformations.
Prof. Dr. Felicitas Hillmann heads the IRS Research Department on the Regeneration of Cities and Towns and holds a professorship on Urban Transformation in International Perspective at Technical University of Berlin. This new joint appointment establishes urban transformation as a research focus within the research department, alongside that of urban regeneration. This means that urban regeneration is now examined as an element of urban transformation.
So in what sense do various types of urban regeneration, especially those conducted as bottom-up processes, contribute to urban transformation? "The kind of urban transformation research that is envisioned and that has already been conducted, employs an explicitly international and comparative perspective focusing on Europe, North America and some parts of the Global South", says Hillmann. This international perspective directs attention to novel research issues, such as questions of planning and in what sense urban planning models may be applied elsewhere. Which travelling ideas find application in which different geographical contexts, and how does globalisation affect local and regional planning practices? Which assumptions about future challenges form the basis for urban regeneration measures and which historical measures are drawn upon for inspiration? Finally, which notions of modernity are inherent in different urban regeneration measures? These are the kinds of comparative research questions that occupy researchers in this subfield of urban regeneration.
Photo: © Sludge G/flickr.com