Urban Experiments
No 9 | April 2015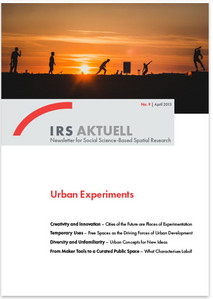 The cities of the future face numerous different challenges. They should be energy-effi cient and ecologically sustainable, offer a high quality of life at affordable prices, present themselves as both historically authentic and modern at the same time and, last but not least, be highly innovative and economically strong. At the IRS, researchers from different disciplines are conducting research into these different aspects of viability of cities for the future. Starting from this edition, we will be presenting insights gained by IRS research during the Science Year 2015 in Germany themed "City of the Future".
First part: Cities need free spaces for experimentation.
For millennia, large cities have been known as the most important starting points for economic development. Their function as markets during the Middle Ages, and the large concentrations of population they off ered during the Industrial Revolution ensured the economic viability of cities for the future. Not much has changed since then in principle, but the reasons for their economic signifi cance have evolved continually.
A fundamental factor nowadays is the ability of cities to innovate – to generate, reuse and act as a catalyst for new ideas. "Encouraging innovation is therefore, a fundamental pillar for stimulating cities' economies – they support technology parks, business incubators or knowledge-based industrial districts," says IRS head of department Prof. Dr. Oliver Ibert. "An imbalance becomes apparent here, though, because innovation comes about not only as a result of high-tech research or in expensive laboratories." According to Prof. Dr. Ibert, large cities offer enormous potential for social, user-led and service-oriented innovations. No expensive laboratories are needed for this, he says – instead, we need lowcost open spaces, a culture of experimentation and the special atmosphere provided by creative cities.
Places for experimentation can be as diverse as the pioneers who occupy them or the enthusiasts who establish start-ups in order to market their ideas. If we take a look at what Berlin was like just after the fall of the Wall, we will see a huge range of possibilities provided by the innovative power of open spaces – from venues of culture and experiences to labs or co-working spaces, says IRS head of department Prof. Dr. Gabriela Christmann. "After 1990, Berlin had a large stock of inner-city brownfield sites which it was possible to use cheaply and creatively." Just as many of these sites, such as the Potsdamer Platz, had projects planned on them, others were discovered experimentally and used temporarily – for example, the Tentstation in Berlin, which not only offered an urban campsite in the middle of a city, but was also a venue for fashion shows, concerts and open air cinema.
According to Christmann, it is not just the physical free spaces that are crucial but also the cultural inspiration and spontaneous creativity which are associated with them. The image of Berlin as an open, tolerant city and as a Mecca for start-ups and the creative scene contributes just as much to innovation and company establishment as does the existence of plots of land yet to be built on, or empty buildings, says Christmann. "Th is is why it is important to maintain or create free spaces like these in order to make cities future-proof in terms of innovation," says Christmann. At the IRS, several sub-aspects of these processes are being researched intensively. The department led by Prof. Ibert focuses on the sources and pathways of innovation, their relationship to urban spaces, and new places of experimentation such as labs and co-working spaces. Meanwhile, the department led by Prof. Christmann analyses the work of pioneers in urban spaces, social innovations and temporary uses. This issue of the magazine presents our research on the future of cities.
Photo: ©ekvidi/flickr.com