24. September | 2020
New Paper: Conflicts as an Integral Part of Planning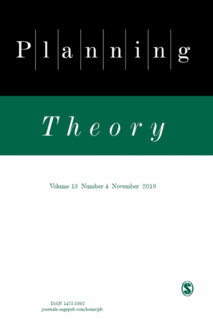 Due to the social polarisation and pluralisation of our society, conflicts in planning are increasing. There is hardly a project today that is not protested against. Well-known examples are Stuttgart 21, the development of the Tempelhofer Feld in Berlin, citizens' initiatives against wind power - and currently also the new Tesla factory in Grünheide near Berlin. How can planning deal with these conflicts? Agonistic planning theory sees conflicts as inherent in a pluralistic democracy and regards them as motors for change. A new paper by Manfred Kühn, which has now been published in the renowned journal Planning Theory, critically examines agonistic planning theory and describes some of the dilemmas that arise in planning practice.
In its current lead project "Immigration: Governance Dilemmas of Cities", the research department "Regeneration of Cities" examines how cities deal with the numerous contradictions surrounding the topic of immigration: Urban policy has to shape immigration, although it has hardly any formal responsibilities and control instruments at its disposal. So-called growth coalitions in cities advocate immigration, while populist movements in many places form strong counter forces critical of immigration. Conflict is thus a central theme of the project. As a basis for their empirical research, the research team around project leader Manfred Kühn has therefore for the first time taken up agonistic planning theory, which places conflicts over planning projects at the centre of interest and not, as previous theories did, for example, the idea of consensus-building through communication.
The paper is a theoretical-conceptual examination of this theoretical approach and identifies three central dilemmas for dealing with planning conflicts: First, digital forms of democracy facilitate citizen participation, but they make political decision-making more difficult in a pluralistic democracy. Secondly, civic participation strengthens plurality, i.e. the diversity of articulated positions, but it also reinforces social inequalities, since groups with strong education and resources can articulate themselves more powerfully. Thirdly, a "culture of dispute" requires openness in citizen participation, but at the same time it also requires closure when anti-democratic and anti-pluralist forces are involved. This dilemma becomes particularly clear when it comes to the question of whether one should "talk to the right", i.e. to people in the far right of the political spectrum.