20. December | 2021
IRS and European University Viadrina Sign Cooperation Agreement and Intensify Collaboration
Joint Professorship for Historical Urban and Spatial Research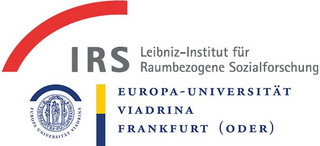 In future, the European University Viadrina Frankfurt (Oder) and the IRS will work together even more closely than before in research and teaching. The director of the IRS, Prof. Dr. Oliver Ibert, and Viadrina President Prof. Dr. Julia von Blumenthal signed a cooperation agreement in December 2021. The agreement embeds the long-standing cooperation in a contractual framework and opens up new fields. The most important project in the new phase of cooperation is a joint professorship for Historical Urban and Spatial Research, combined with the leadership of the Research Area "Contemporary History and Archives" at the IRS. The professorship is to be advertised in January 2022 and filled in the summer semester of 2023.
Oliver Ibert: "We are very pleased to be able to give the existing cooperations with the Viadrina a formal framework with this contract. It offers additional strategic options, especially the joint appointment of professors. With this contract, the IRS completes its network of partnerships in the Berlin-Brandenburg science region. In the internationalisation strategy of the IRS, the neighbouring country of Poland forms an important focus area. We consider Viadrina, with its excellent relations to Eastern Europe, to be a strong and important partner.
Viadrina also attributes great importance to the cooperation with the IRS: "The long-standing cooperation between the IRS and Viadrina will be intensified in this way and raised to a new level," says Prof. Dr. Julia von Blumenthal, President of the European University, explaining the benefits of the agreement. "The joint appointment of a professorship for Historical Urban and Spatial Research, which will at the same time bear academic responsibility for the Scientific Collections on the Building and Planning History of the GDR at the IRS, will enable us to raise the profile of our focus in the area of transformation research even more than before. As a result, the cooperation is also of great significance for Frankfurt (Oder)'s planned application as a location for the Future Centre for European Transformation and German Unity."
At the newly created professorship, the development of cities and regions will be studied from a historical perspective. One focus will be on socialist societies and their transformation. Other points of the intensified cooperation include the promotion of young researchers within the framework of a programme for doctoral students, the application for joint research projects, teaching assignments and joint events.