15. June | 2021
Welfare and Power: Daniel Hadwiger's PhD Thesis Published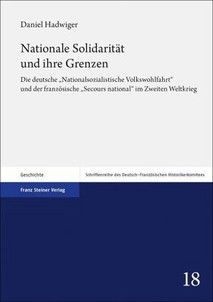 Under the title "Nationale Solidarität und ihre Grenzen. Die deutsche 'Nationalsozialistische Volkswohlfahrt' und der französische 'Secours national' im Zweiten Weltkrieg" (National Socialist People's Welfare in Germany and the French 'Secours national' in the Second World War), the Stuttgart-based Franz Steiner Verlag published the dissertation by Daniel Hadwiger, a postdoctoral researcher in the Department for Historical Research. In his dissertation, Hadwiger examined the political instrumentalisation of welfare in the Nazi state and in the Vichy regime in a transnational comparison.
Hadwiger takes an exemplary look at the most important welfare organisations in Germany and France during the Second World War: the "Nationalsozialistische Volkswohlfahrt" (National Socialist People's Welfare) and the Secours national. Volkswohlfahrt and Secours national provided care for the civilian population in extraordinary crises during the war. At the same time, both welfare organisations acted on behalf of the Nazi state and the Vichy regime respectively. They implemented their anti-communist, anti-Semitic and family-promoting measures in their welfare work. Therefore, in addition to their care function, their monitoring and propaganda function in favour of the Nazi state and the Vichy regime was central. The study compares how the challenges of wartime welfare were met by the Volkswohlfahrt and the Secours national within their respective national contexts. It also asks about the mutual influence of the two organisations. The fact that the Second World War was fought not only with weapons but also with welfare organisations for population, territories and competing models of order is shown particularly vividly by the Volkswohlfahrt and the Secours national. For his study, Daniel Hadwiger researched in about 50 archives in the Czech Republic, Belgium, France and Germany. The work is embedded in recent research that illuminates National Socialism from a transnational perspective.
The thesis was supervised by Johannes Großmann, Junior Professor of Western European History at the Seminar for Contemporary History at the University of Tübingen, and Julia Torrie, Professor of History at the University of St. Thomas in Fredericton, Canada. It was awarded the grade 1.0 (magna cum laude). In November 2020, Daniel Hadwiger was awarded the Dissertation Prize of the Deutsch-französisches Historikerkomitee (Franco-German Committee of Historians). The dissertation was published in the Committee's publication series.