10. January | 2022
IRS Realigns its Research – Starting 1 January 2022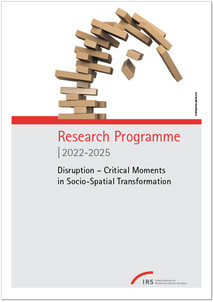 At the turn of the year 2021/2022, changes in the organisation and direction of IRS research will take effect. They are the result of a strategy process ("IRS 2025") that we have been conducting over the past two years.
As the most important change, starting January 1, 2022, the IRS will no longer organise its social science research from a spatial perspective in five Research Departments, but in three consolidated Research Areas:
Seven Research Groups, one Junior Research Group and one Research Infrastructure group operate within these Research Areas. In their interaction, they shape the profile of the new Research Areas and of the IRS as a whole. This reorganisation is intended to strengthen the IRS in its core functions, in research, in knowledge transfer and within its infrastructural services. Moreover, the reorganisation is intended to facilitate internal collaboration and increase the societal benefits of our research. It is also reflected in our fundamentally redesigned website at the turn of the year.
On 1 January 2022, we will also launch our new research program entitled "Disruption – Critical Moments
in Socio-spatial Transformation". In the recent past, sudden occurring crises - such as the COVID-19 pandemic - have taught us that our expectations for the future should not be based solely on mega-trends with long-term effects. Rather, we must expect the occurrence of further, unpredictable events. How such disruptions can be captured in social science, how they emerge, what influence they have on practices of socio-spatial change, and how societies can better prepare for them is what IRS will explore over the next four years.
The IRS Management Board hopes you enjoy exploring the major and numerous minor innovations on our redesigned website!