28. February | 2022
Statement on the War of Aggression against Ukraine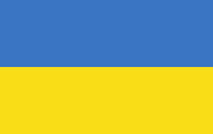 We are shocked by the illegal war of aggression against Ukraine, which was launched by Russian President Vladimir Putin. We are deeply affected by the suffering inflicted on the people of Ukraine. We are also deeply concerned for colleagues, friends and family members who are personally in danger because of the war in Ukraine.
The invasion, long prepared by the Russian leadership, is also an attack on the values of freedom, democracy and human dignity that are important to us. As members of the international scientific community, we stand up for non-violence, self-determination and truth-based discourse - principles that are fundamentally violated by the belligerent aggression.
We stand in solidarity with the people in Ukraine who are fighting for their freedom and self-determination and are suffering the most severe losses, including the loss of their own lives. We also stand in solidarity with the people in Russia who are standing up against the war course of the Russian leadership at great personal risk.
We are determined to help protect democracy in Ukraine and in the entire Eastern European region. Within the framework of cooperation and funding programmes, we as an Institute will work to open up new perspectives for Ukrainian researchers and students who have been deprived of opportunities for personal development by the war.